Cataracts Explained
Cataracts are a naturally-forming eye disease that generally develops as we age. This condition occurs when proteins begin to clump inside your eye's lens, causing it to become more rigid and opaque. This clumping results in a clouded, opaque effect on your ordinarily transparent lens.
Signs of cataracts can include:
Cloudy, blurry, or dimmed vision
Problems seeing at night
Light sensitivity
Seeing "halos" around lights
Faded or yellowed colours
A single eye with double vision
At the onset of this condition, your optometrist can prescribe glasses or contact lenses to correct refractive errors. However, cataracts can eventually lead to difficulties in our day-to-day lives. The only way to remove cataracts is by surgery.
If cataracts complicate your daily activities, a doctor may suggest cataract surgery to help improve your quality of life.
Benefits of Cataract Surgery
Cataract surgery is a popular and reliable solution for obtaining clearer vision. It is a short and simple procedure where the natural lens is replaced by an artificial one. A comprehensive eye exam can help determine if you are a candidate for lens replacement surgery.
Benefits of cataract surgery can include:
Improved vision: Cataract surgery successfully restores vision for the majority of people who undergo the procedure. Objects appear more crisp and clear, and colours appear brighter. As the eyes heal and adjust to their new lenses, vision continues to improve.
Improved eye health: Cataracts can cause eye inflammation, increase intraocular pressure, and make it more difficult for your optometrist to treat and prevent other eye problems.
Improved safety: Better vision helps decrease the risk of falling, car accidents and other safety-related incidents.
Improved quality of life: Blurry vision makes it difficult to enjoy our daily lives, and reduces our independence. Improved eyesight can have a positive effect on mood and mental health.

Cataract Surgery Consultation
The first step towards cataract surgery is a comprehensive consultation with an experienced optometrist. During the consultation, your doctor will determine if any factors may affect your recovery from the procedure.
If you can have the surgery safely, your optometrist will refer you to a trusted ophthalmologist.
Cataract Surgery
Your ophthalmologist performs your cataract surgery on an outpatient basis, which means you won't have to stay in the hospital post-surgery.
The Procedure
Cataract surgery typically takes less than an hour to complete.
Your ophthalmologist will use eye drops to dilate the pupils, then provide local anesthetics as a numbing agent. Once you are comfortable, the surgeon removes your clouded natural lens, and replaces it with a synthetic lens.
Post-Procedure
Your vision may be blurred immediately after surgery, as your eyes begin to heal and adjust to their new lens.
Your doctor may prescribe an eye patch or protective shield for a few days post-surgery, as well as eye drops or other medications to help prevent infection, reduce inflammation and control eye pressure.
You may feel itching or mild discomfort post-surgery, and your ophthalmologist will ask you to avoid rubbing or pushing on your eye. Any discomfort should improve within a few days post-surgery.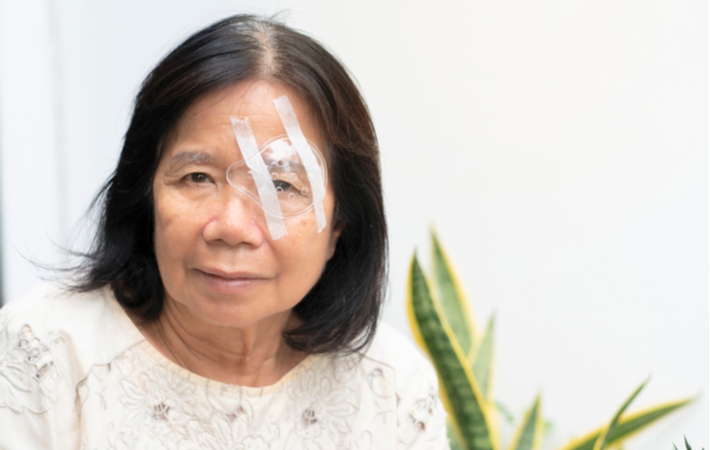 Recovering From Cataract Surgery
You can expect your vision to begin improving within a few days of your cataract surgery. Cataracts are usually yellow or brown-tinted, which results in dimmed colour vision, so colours may appear brighter through your new, clear lens.
You'll be scheduled a visit with your optometrist within a few days of your procedure, and then for a series of follow-up appointments to ensure a swift and easy recovery. It takes about 8 weeks to recover from a lens replacement surgery completely.
There are a few side effects to expect post-surgery, like:
Blurred vision for the first few days after the procedure
Brighter colour vision
Itchy eyes
Mild discomfort
If you notice any of these symptoms, you should contact your optometrist immediately:
Loss of vision
Persistent pain
Increasing pain
Redness in the eyes
Swelling of the eyelids
Extraordinary Results
The majority of patients who undergo cataract surgery have their vision successfully restored; however, many will still need glasses or contact lenses after the procedure.
Between 1 and 3 months post-surgery, your doctor will confirm that your eyesight has healed correctly, and if necessary, provide an updated prescription for your improved vision.
Is Cataract Surgery Right For me?
If you're considering cataract surgery, it may help to ask yourself these questions:
Am I safe to drive at night and during the day?
Are cataracts interfering with my work?
Am I experiencing difficulties reading?
Am I able to watch movies or television?
Is it becoming more difficult to enjoy my favourite hobbies?
Are my vision problems affecting my independence?
Is my vision affected by bright or dim lighting?
Contact the team at Eye Effects for a cataract surgery consultation if the answer to any of these questions is yes, and you're ready to experience bright colours again. We can help determine if this procedure is right for your vision, and we'll work together to help provide you with the healthiest eyesight possible.
Extraordinary results are just a phone call away. We can't wait to see you!