Often, when we pick eyeglasses, we prioritize how they look. We ask ourselves questions like do they go well with my work attire? Are they fashionably sensible? As you should, because, let's face it, we don't want to walk around with a pair of eyeglasses that are considered a fashion faux pas. However, in focusing on fashion, we wind up forgetting to ensure their functionality.
You're probably thinking the whole reason you got eyeglasses in the first place was to help fix the way your eyes functioned—what more could there be? Well, there's actually quite a bit more to keep an eye out for.
While your eyeglasses may help you see better, they may not be protecting your eyes as well as they could. See, there is a lot of glare reflecting off your lenses from different kinds of lighting. Glare is additional brightness caused by direct light or reflected light.
Natural light reflects off of your lenses, digital devices reflect light off your lenses, and ultraviolet (UV) rays, which are invisible to the eye, also reflect off your lenses. All of these can cause different levels of strain on your eyes.
Anti-Glare Coating Basics
Usually, when we get eyeglasses, it's to fix our sight; however, we must also remember to protect our eyes. So, it is equally as essential to get an anti-glare coating for your eyeglasses as it is to make sure they complement your wardrobe.
Anti-glare coating is layered on both the front and back end of a lens, designed to manipulate incoming light. It allows your eyeglasses to provide you with optimal vision. An anti-glare coating is incredibly effective when applied, blocking up to 99.5% of incoming light. This makes reflections practically invisible.
Glare in your eyes can be hazardous to you and everyone around you. It can obstruct your driving at nighttime and during the day. UV light can be damaging to your eyes as well—too much exposure can lead to diminishing eyesight, dryness, and loss of elasticity.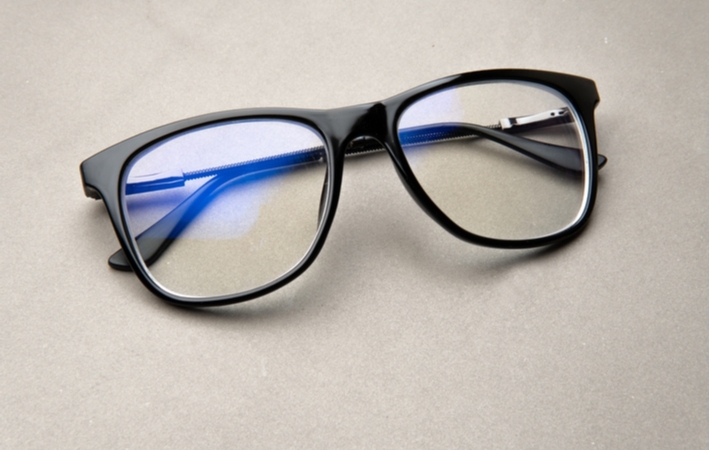 4 Reasons Why Anti-Glare Coating Might Be Right For You
The benefits of coating your eyeglasses can be immediate, long-lasting, and fashionably sensible. Here are 4 benefits to having your eyeglasses coated. See if they're the right fit for you!
1. I Can See Clearly Now!
Clearer vision is the most immediate benefit of applying an anti-glare coating to your eyeglasses. With practically all reflected brightness eliminated, your vision will be clearer right away. No more straining your eyes in order to get a better look at something.
2. Looking Sharp
With your current non-coated eyeglasses, you've probably noticed that having your picture taken doesn't always look the way you want. Brightness reflecting off your lenses has undoubtedly ruined that perfect pic for Instagram. Coating your eyeglasses will allow you to capture those moments without a second thought.
Even brightness from natural sunlight can obstruct your day-to-day vision, making eye contact elusive because, well, no one can see your eyes.
3. What You Can't See Can Hurt You
That big, hot sun emits ultraviolet (UV) rays completely invisible to us. And UV rays can be harmful not just to our skin but also to our eyes. An anti-glare coating helps your eyeglasses provide better vision for you while protecting you from what you can't see as well.
4. I Can See It In Your Eyes
We have all had those moments where we can feel the stress and strain in our eyes. Light reflected through your lenses can make even the smallest tasks seem difficult. If you constantly squint your eyes to get a sharper look at things, you are inevitably putting stress on your eyes.
Less eye squinting means less strain on your eyes—which means better quality of life.
Protect Your Eyes From Glare
If you're unsure whether you should add an anti-glare coating to your eyewear, our team is always happy to discuss what would be best for you. We carry specialty eyewear, lenses, and coatings to meet the needs of all our patients' eyes. When you live in Calgary, one of the sunniest places in Canada, we recommend at least trying them out to experience the eye comfort you didn't know you could achieve!