What is Dry Eye Syndrome?
Dry Eye Syndrome is a common eye condition that occurs when the eyes don't produce enough tears, the right type of tears, or the correct tear film. This condition can cause minimal to severe discomfort and can cause vision problems if left untreated.
Luckily, at Eye Effects our doctors have extensive experience in dry eye therapy. If you are concerned about dry eye, book an appointment today to discuss treatment options with your eye doctor.
Symptoms
Dry Eye Syndrome can affect one or both eyes. Symptoms may include:
An uncomfortable burning or scratchy sensation in your eyes
Foreign object sensation or feeling like something is "stuck" in your eyes
Excessive amounts of mucus or water in or around your eyes
Difficulty with vision, especially in limited light
Sensitivity to light
Eye redness
Difficulty wearing contact lenses
Blurred vision or eye fatigue
Causes & Risk Factors
The most common cause of Dry Eye Syndrome is the eye producing fewer tears than it is supposed to. If you are experiencing any of the above symptoms there may be several causes and risk factors that are responsible.
Causes
The most common causes of dry eye syndrome are:
Medical procedures such as hormone replacement therapy, certain eye surgeries, and radiation therapy
Continual exposure to the wind, dry air, or heat
Allergies
Certain medications, including antihistamines, nasal decongestants, birth control pills, and antidepressants
Long-term contact lens wear
Excessive computer use or time spent looking at a screen
Eyelid problems such as incomplete closure of the eye or not blinking enough
Additional Risk Factors
In addition to the above causes, several risk factors can lead to dry eye syndrome. The risks factors that can contribute to the condition may include:
Age. You are more likely to experience dry eye syndrome if you are over 50
Smoking. Smoking has been linked to many eye conditions including dry eye syndrome
Gender. Women suffer from dry eye syndrome more often than men
Body fat. A high percentage of body fat has been linked to dry eye syndrome
Frequent flying.
When to See a Doctor
Book an appointment and tell your eye doctor if you've had any of the above-prolonged symptoms. Your doctor will take steps to determine what's bothering your eyes by completing an eye exam and can help you find a suitable treatment plan.
What to Expect from an Eye Exam?
The only way to know if you've got dry eye syndrome is to have your eye doctor perform a series of dry eye tests during an eye exam.
At Eye Effects, our 30–60 minute eye exam process includes:
Discussing your medical history, including your current health needs and concerns, your prescription if you wear corrective lenses, current medications and family medical history
Completing a total exam of the eye, where we test for visual acuity, overall vision health, pupillary response and eye movement
Symptoms alone are poor predictors of dry eye disease, which is why it is important to be diagnosed by an eye doctor. Only a detailed eye exam done by an optometrist can correctly diagnose dry eye syndrome as well as find the proper treatment to ensure your eyes stay healthy and comfortable.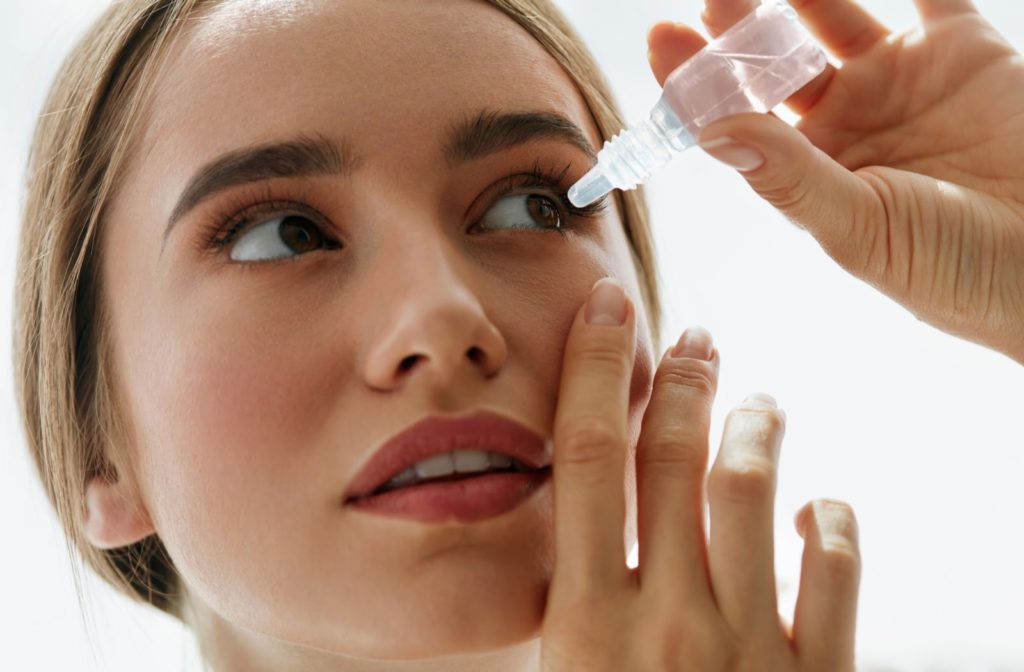 Treatments
There are many treatments available to treat dry eye syndrome, depending on the type and severity of your condition.
Artificial tears
Artificial tears are eye drops that increase your eye moisture. It is one of the most common treatments for dry eye syndrome.
Lacrimal plugs
If your eye doctor finds that tear loss is the cause of your dry eye syndrome, they may suggest lacrimal plugs. This reversible and relatively painless procedure is done through the insertion of plugs into the corners of your eyes to block the tear drainage holes.
Medications
Dry eye syndrome can also be treated through the use of prescribed medication, usually administered through medicated eye drops. Depending on the type and severity of your condition, medications can help to increase the number of tears in your eyes and stimulate tear production.
Surgery
If you have severe dry eye syndrome or if your condition continues to persist after trying any of the above treatments, your optometrist may recommend surgery.
Prevention
There are several steps you can take to reduce the likelihood of contracting dry eye syndrome:
Limit your time in front of screens
Use a humidifier to increase the humidity in the air in your environment
Avoid long-term exposure to environments that are dry and windy. If you cannot limit your exposure to these types of environment, be sure to wear sunglasses to reduce the risk
Make sure you're drinking 8-10 glasses of water per day
Limit your contact lens wear
If you are concerned about dry eye or have questions about potential treatment plans, book an appointment with your eye doctor today.