Refractive errors are one of the most common eye conditions. Eyeglasses and contacts are common solutions for clear vision, but what are your options if you'd rather be lens-free?
Laser eye surgery such as LASIK is an effective way to correct any vision problems without using glasses, but what are the pros and cons of this procedure?
What is LASIK Surgery?
LASIK (laser-assisted in situ keratomileusis) is one of the most commonly performed surgeries to correct refractive errors. It is conducted for correction of vision problems such as:
The surgery works to reshape the cornea, and it begins by creating a thin flap to access the underlying cornea (stroma). After, a laser is used to reshape the stroma through an ultraviolet light beam.
This removes microscopic tissue and lets the cornea more accurately focus light. The flap is laid back in place and it requires no stitching to stick to the stroma.
LASIK has been used to correct vision for over 20 years, and the vast majority of people have effective vision after surgery completion. There are obvious benefits to LASIK surgery, but what are the potential drawbacks?
What are the Pros & Cons?
LASIK surgery is generally safe and offers a quick recovery time, but there are risks associated with any surgery you may receive. These drawbacks can include side effects or potential complications. It's important to understand the possible pros, cons, and effects relating to this surgery.
Pros
It's safe & effective
LASIK has been performed for over 20 years with a high rate of success, and many recommend it as an effective form of vision correction. Millions of patients have used LASIK to treat their vision problems, and over 90% achieved 20/25 vision after surgery. There are always risks with surgery, but you can rest easier knowing many have found long-term solutions for their refractive errors.
Quick recovery time
One of LASIK's largest benefits is its quick recovery time. You may have immediate improvements to your vision and recovery time can be as short as 24 to 48 hours. Both eyes can be treated within the same day, but you can have them operated on at alternate times. Despite the quick recovery time, you should have a ride home planned after LASIK surgery.
No more glasses or contacts
What is the point of getting LASIK surgery? To have lens-free vision! There are plenty of eyeglasses and contacts to choose from, but if you're tired of these methods, surgery is an effective option. You can continue to live your life without worrying about your glasses and contact lenses.
There are many benefits to LASIK surgery, and so many receive it for these reasons. Despite these benefits, there are potential side effects and complications associated with any surgery.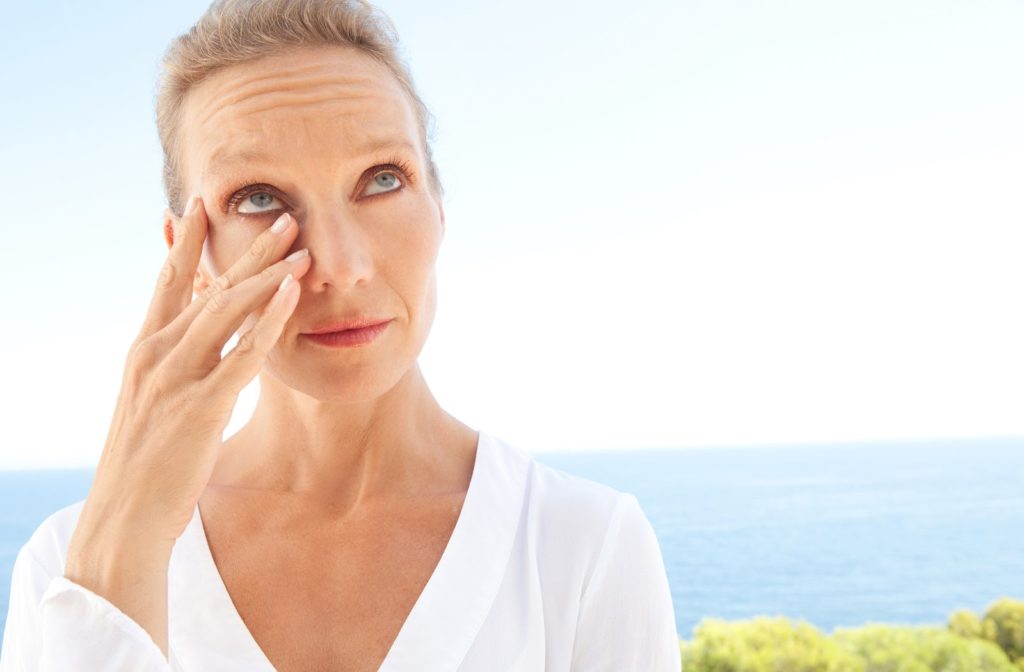 Cons
Potential side effects
There are minor side effects related to LASIK surgery, but many are temporary and only a potential annoyance. Some common side effects include:
You may experience dry eye after LASIK surgery. The procedure can cause a temporary decrease in tear production, and your eyes may feel dry as they heal. This can last as long as six months, so your doctor might recommend the use of eyedrops.
You can also experience glare and halos after surgery, especially when driving at night. These halos appear around light sources and may affect your vision. This effect generally lasts a few days to weeks depending on each person.
Potential complications
There are potential complications with any surgery and LASIK is no different, however, these are very rare. Some potential issues with LASIK surgery include:
Under-corrections
Over-corrections
Astigmatism
Flap problems
Under-corrections and over-corrections can happen when there is either too little or too much tissue removed. If there is too little tissue removed, your vision is not as clear as intended and can require further procedures for the correct results. An over-correction happens when too much tissue is removed and may be more difficult to correct.
Astigmatism can be a result of uneven tissue removal. Similar to under-corrections, it may require additional LASIK surgery to repair. Glasses and contact lenses are options if additional surgery isn't wanted.
A flap problem is a general term to describe an issue arising with the cornea. When a flap is created in surgery to access the stroma, the area can become infected or result in excess tears. The corneal tissue layer may grow abnormally underneath the flap.
These potential complications are rare, but it's important to understand them before going forward with surgery. Knowing the pros and cons of LASIK surgery is helpful, but how do you know if it is right for you?
Who is a Candidate for LASIK Surgery?
There are several factors considered to determine if you're suitable for LASIK and your optometrist will discuss these with you during a consultation. These factors include:
The thickness of your cornea
Your current prescription
If your vision is significantly changing
Your medical history
The choice to commit to surgery is yours if you're deemed suitable, but your optometrist can help you make an informed decision. If you're unsure if LASIK surgery is an option for you, meet with your eye doctor.
Book an Appointment
If you're wondering about your suitability for LASIK surgery or have questions, contact your optometrist. They know how to help you make an informed decision, and are only a phone call away.